Nowadays, with the popularization of Netflix series, people have been inspired by several different characters for the famous "Halloween". Thus, the 2022 Halloween look trends go beyond witches with warts on their noses and flying brooms.
For example, you may have heard of the costumes for Halloween that have to do with La Casa de Papel or Round Six, right? But, we can also say that there are those that never go out of style, like the witch or the cinderella or the fairy.
What are the Halloween Costumes and Looks Trends?
In this article, you'll find some inspirations for costumes to wear for this year's Halloween. And we separate the most current, being:
Harlequin Halloween Costume
Witch Halloween Costume
Little Red Riding Hood's Halloween Costume
Cinderella's Halloween Costume
Bunny Halloween Costume
Cruella's Halloween Costume
Cupid's Halloween Costume
Devil's Halloween Costume
elf Halloween costume
fairy halloween costume
Witch's Halloween Costume
Nun Halloween Costume
La Casa de Papel Halloween Costume
Pirate Halloween Costume
Round Six Halloween Costume
See Halloween costume inspirations
When is Halloween celebrated
But before we start talking about the costumes that are trending for Halloween 2022, we need to remind you about Halloween. After all, this type of event is much more traditional in the United States than in Brazil.
Halloween takes place on October 31st, on Halloween. The date has to do with the eve of the Christian feast, All Saints' Day. They say that the festival started from the Celtic festivals and was only later christened by the church.
Now, let's get to the festive part of the text: Halloween look trends in 2022.
Harlequin Halloween Costume
You may not believe it, but there are a lot of mothers who don't really know who Harlequin is. So, we'll explain this Harlequin Halloween costume that so many girls have been looking to wear for Halloween.
Harlequin is a character from DC Comics, being an enemy of Batman. So why success? Because she is a Harlequin, a character that makes people laugh, just like a clown. The clothes and colored hair also help a lot in this popularization.
Witch Halloween Costume
The witch is the main synonym for Halloween costumes nowadays. This also has an explanation. In ancient times, witches were considered women who had supernatural strength to harm people. They were like witches.
In this way, she ended up being an icon of Halloween, which has this idea of ​​being a macabre festive day. Despite her being seen as an obnoxious and curmudgeonly woman, witches' Halloween costumes are trending among girls. And with several variations.
Little Red Riding Hood's Halloween Costume
Now we have here what would be a curiosity. Just as Harlequina has been gaining fans these days, Little Red Riding Hood was not so well regarded as a Halloween character in ancient times. But, that story has changed.
The fairy tale for children, which became known by the signature of the Brothers Grimm, is intrinsic to popular culture in several countries. With the adaptations that came with the big bad wolf, Little Red Riding Hood's Halloween costume became current today. 
Cinderella's Halloween Costume
Cinderella's story also follows what we talked about above, in the case of Little Red Riding Hood. She is a character well known to children, and the children's tale is one of the most popular of mankind. Since then, it has been the central theme of films, series, shows and became fantasy.
Nowadays, dressing up in Cinderella's Halloween costume might not be as scary as a witch's. However, it makes many girls and women happy because it allows them to be in the "skin" of a children's fantasy icon, which was popularized by the Brothers Grimm.
Bunny Halloween Costume
You can search several websites on the internet and you will almost always find the bunny Halloween costume as one of the simplest to design. From a black tulle skirt and ear-shaped tiaras, it's possible to be dressed up.
Perhaps this facility is the big trend in dressing up as a bunny on Halloween. After all, no one has yet been able to explain what the animal's relationship with the date is. On the other hand, there are those who do macabre rabbit makeup to get in the party mood.
Cruella's Halloween Costume
At the end of the article, we will have a bonus for talking about movie characters. But before that, we have a great example here, which is Cruella's Halloween costume . If you don't know her, you should.
She is a fictional character who appears in the story of the 101 Dalmatians. From there, he became an iconic Disney character. As the name suggests, she is a rebellious woman who plays the villain. So it's all about Halloween. In fact, some say she's a witch.
Cupid's Halloween Costume
A cupid is that person who arranges marriages or love relationships. In older mythologies, especially of Rome, the name was linked to the god Eros. He embodied passion and love in all its manifestations.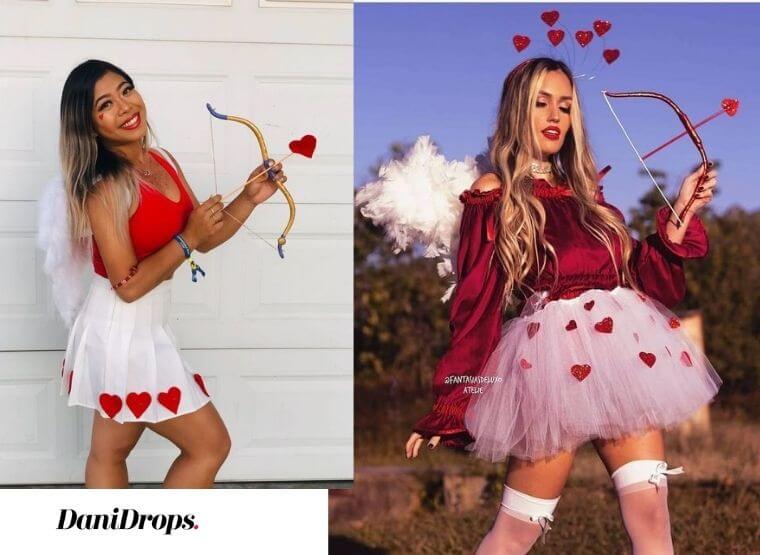 But as much as you think the Cupid Halloween costume has nothing to do with this date, you are wrong. That's because you can adapt the character to make it scarier or simply use it as a differential between so many witches and monsters.
Devil's Halloween Costume
If Halloween is a scary date, then let's assume we have a costume here that has everything to do with it. We're talking about the Devil's Halloween costume , which is also the biggest hit among women and girls.
The red color is directly linked to the day of the event. Other than that, it is usually used with dark and bloody makeup. So the idea is to be scary. The cool side is that you can create a production from separate pieces, such as tulle skirts and tights .
elf Halloween costume
For boys and men, although there seem to be few options for this day, be aware that there are some great costume trends. For example, the elf Halloween costume is a possibility.
The elf comes from Norse and Celtic mythology. As such, it came to be important in European medieval literature later on. They are luminous and magical beings, being very close to the fairies, which we will mention in the next topic.
fairy halloween costume
There is a curiosity among all costumes for Halloween when we talk about fairies. This is because she is a mythological being, who comes from Celtic culture. Today, everyone sees you as a small woman with magical powers. This is the case of Peter Pan's Bell.
The popularization of the Fairy Halloween costume has to do with the fact that there are several fairies that "fit" the party. Besides Sininho, you can also think of Lorelei (a German fairy), Morgana Le Fay (from Avalon), and Fada Bela (from Caça Talentos), among others.
Witch's Halloween Costume
The sorceress is a witch, isn't she? But she has an occupation much more focused on the production of spells. So, it turns out to be another good idea for those who like to follow fashion trends for Halloween.
The sorceress may even have an outfit similar to the witch's, wearing hats, wands and may even have cauldrons with toxic mixtures. Witchcraft, by the way, is a subject that always brings many doubts and bizarreness. Maybe that's why it has everything to do with October 31st.
Nun Halloween Costume
To understand the figure of the nun on Halloween, know that this was only possible when the event stopped being just Celtic and became part of the church. This is because nuns are important figures within various Christian religions.
What's going to change is that the nun's Halloween costume does n't always bring just that one-of-a-kind outfit, between black and white. But, there are those who choose to create nuns who are incredibly bad. After all, the idea is to participate in the antics of that day.
La Casa de Papel Halloween Costume
Thus, we arrive at the classic La Casa de Papel. This is a Netflix series that has become a huge worldwide success. No, the characters have nothing to do with Halloween. However, they became famous for the clothes they wear.
These outfits are red jumpsuits and that come together with a Salvador Dali mask. In the story, this type of clothing made perfect sense. And the success was so much that nowadays many people look for the Halloween costume of La Casa de Papel to wear.
Pirate Halloween Costume
One more option for men is the pirate Halloween costume . In this case, the idea is to think of a figure who is seen as a villain. So are the pirates, although history tells that this was not always how it happened.
But today you can dress up as a pirate by blindfolding one eye, a wooden leg, a different type of hat and even a hooked hand. Will be? The fantasy has been a big hit after Jack Sparrow's appearance in theaters.
Round Six Halloween Costume
One more tip comes from Round Six's Halloween costume. It's a story very similar to the one we told about La Casa de Papel, being a successful series on Netflix. What changes is that it is a more current series, which was released a few days ago and has already been successful.
The costume is marked by the characters, who also wear red, or by the main girl, who is a doll. Interestingly, the series is quite violent and has not been recommended for children. Still, the fantasies are successful.
Curiosity – Movie Character Halloween Costume
And to finish this text that talks about the main trends of looks for Halloween in 2022, we want to remember that the Halloween costumes of movie characters never go out of style. In other words, they are always on the rise and this will continue to happen.
To use as inspiration, remember the various characters we talked about in this article, such as the pirate Jack Sparrow, the villain Cruella, the masks of Salvador Dali from La Casa de Papel and even those linked to heroes, such as Arlequina, who is from DC Comics.
Where to buy costumes for Halloween?
NOTE – If you found any photos that do not have their due credits, contact us so we can add the necessary credits.