With the heat that summer always brings, it is normal that women are already thinking about the new trends to come. What women are looking for most is comfort and versatility and that's exactly what the 2022 blouse trend brings. Check out some models below:
What are the top trends for 2022
The top trends for 2022 are:
Smock blouses
Alcinha blouses
Cropped blouses
Long sleeve blouses
Gypsy blouses
Cache-Coeur Blouses
College Blouses
Top blouse
Lace Blouses
See 40 Models of Blouses that are in Fashion
Smock blouses
The smock that was once an '80s classic is back, revamped, of course. It appears in bright colors, wonderful prints, with lots of ruffles and puffy sleeves. Of course, looser clothes become more comfortable, as they provide greater freedom of movement.
Alcinha blouses
Spaghetti straps are perfect for the hottest summer days, and can be used in combinations with blazers for a more formal occasion. But if the idea is comfort and practicality, they can be used with shorts, skirts, with mom pants, in short, you make the choice.
Cropped blouses
Cropped is the sensation of summer 2022, it has been making perfect combinations with high waist pants for hours. For summer 2022 it comes with a new version, even shorter, a bustier version, a classic from the 90s. It can be used as an overlay with dresses, t-shirts, shirts, among others. It's perfect for those who like the trend, but don't like to let their bodies show.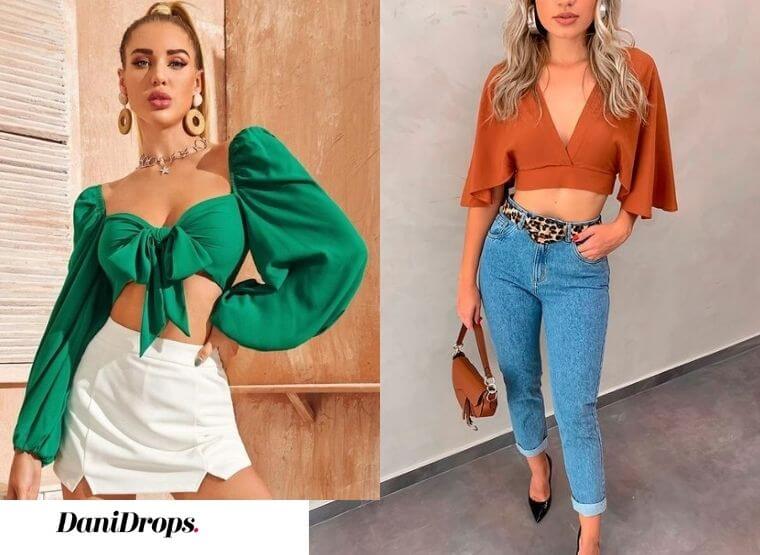 Long sleeve blouses
The long-sleeved blouses are making the biggest success, they appear in the puffy version and making the princess style with elastic at the cuff. There is also the ¾ sleeve version, which is the one that is close to the elbow, perfect for women who don't want to show their arms. On the other hand, this type of blouse makes the woman more elegant and thin.
Gypsy blouses
The giganinha is another trend of the 80s, many young actresses of the time used the style, such as Glória Pires, in the soap opera Dancin Days. The blouse also has a boho style and can be used with jeans, skyne, panta-cur, shorts, skirts, among other productions. The colors are full of life, very intense, for those who enjoy it, even the baby will be in the windows.
Cache-Coeur Blouses
One of the most incredible necklines that enhance the bust of women is the cache-coeur. They are very versatile and go with any occasion, this neckline model is timeless, it never goes out of style. The blouses with cache coeur style are a must have in the women's wardrobe. You can't give up having a blouse like that in your wardrobe.
College Blouses
College blouses are a big bet on the 2022 blouse trend. As the name suggests, they are inspired by uniforms, with a round collar and longer sleeves. The colors are amazing, bright yellow, orange, pink pink, neon green. Everything to make your daily life much happier.
Top blouse
The comfortable old Top is back, not only for gym wear, but as a garment for all occasions. Of course, to wear a top and show your little body you need to have an enviable silhouette, and that's up to the young girls on duty. The top versions are amazing, in models, colors and materials. Everything to provide more comfort and beauty in feminine looks.
Lace Blouses
Lace also comes up making beautiful pieces, following the trend of 2022 blouses. Lace is synonymous with delicacy, femininity and beauty. They appear giving a touch of subtlety to the blouses and are perfect for all occasions.
If you identified with the 2022 blouse trends, then enjoy the fun with style and beauty in summer 2022.
NOTE – If you found any photos that do not have their due credits, contact us so we can add the necessary credits.