Empowered! This is one of the expressions most used today to explain the role of women in the labor market. And along with occupying higher positions, there is also a change in the concept of fashion. After all, what are the current female executive looks ?
There is a great trend towards modern executive looks for every woman who seeks the most important positions in the company, such as management. Now, it's a mistake to think that only the suit is accepted. Nowadays, it is possible to be fashion while inspiring respect and seriousness.
What are the trends for female executive looks in 2022?
For those looking for ideas for women's work clothes thinking about executive looks, know that this is the ideal text. We think of every perfect match that can be made from basic pieces like the pantsuit; even alternative fashions like plus size and evangelicals. See only the topics:
Executive looks with a suit
Executive looks with jeans
Executive looks with a leather jacket
Executive looks with a white blouse
Executive looks with skirt
Executive looks with pantaloons
Executive looks with pinstripe pants
Executive looks with high heels
Executive looks in pastel shades
Evangelical executive looks
Plus size executive looks
Executive looks for black women
Accessories that make up an executive look
Women's clothing models for high work
If there is a good tip to start listing these models of women's clothing for work that are trending today is: respect yourself. That's right. That's because the fashion market respects all women, with their biotypes and tastes. See the best examples.
See models of women's clothing for work
Executive looks with a suit
For starters, there seems to be no doubt among women that executive looks with suits have fallen into their liking. It's just seeing an image in a magazine of a woman with a piece like this that she already inspires competence.
In some places, we can hear about women 's blazers too, this being a variation of the suit, which we know so much. For fashion scholars, the suit means something like "the empowering piece of every executive woman."
Executive looks with jeans
Still without leaving much of what is natural and common in the fashion market, know that it is possible to create executive looks with jeans and without it seeming something simple or too basic. Jeans are perhaps the most versatile piece in the world.
Also read: Jeans Trends Trends – See 110 Photos of Jeans Trends 2022
Therefore, it can also be used by women of high positions, but as long as it forms a look of confidence . Just so you understand, know that skinny pants are not so nice for executives. But, the pantaloon or pinstripe might be ideas. We'll talk more about this in the next topics.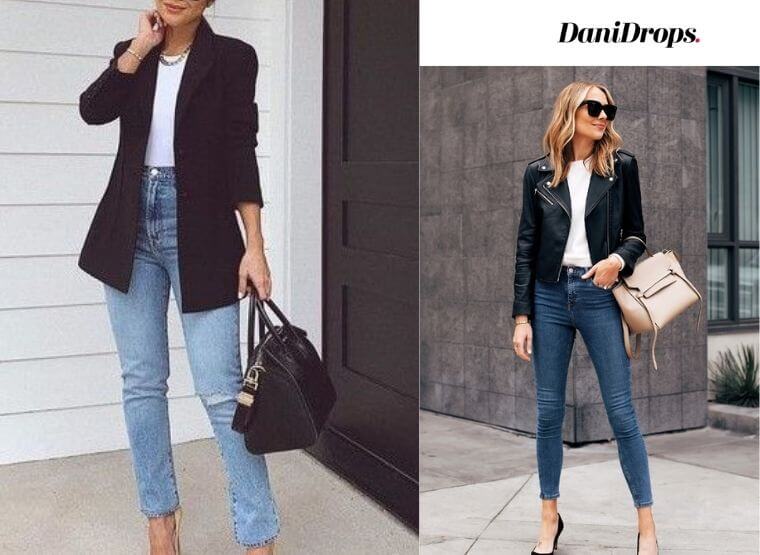 Executive looks with a leather jacket
Tip number 3: Get the idea out of your head that leather clothes are just for people who like to ride motorcycles, okay? The leather jacket has been a great success in the job market, especially in colder countries than Brazil.
Also Read: Looks with Fake Leather. What are the Trends, Tips and 60 Inspirations
The piece is quite versatile and democratic, having ceased to be an icon in the 50s for rock girls to become an important item in the wardrobe of those who want to put together executive looks with a leather jacket in the new century.
Executive looks with a white blouse
If the suit is one of the most well-regarded pieces for executives and the jeans are a great ally in terms of versatility, we cannot fail to mention the white blouse. It goes with everything, to tell you the truth, as it allows you to put together several looks.
The classic and basic piece fits all occasions, from a business meeting or in the day to day working in the company's office. When making these executive looks with a white blouse, think about comfort, style and elegance.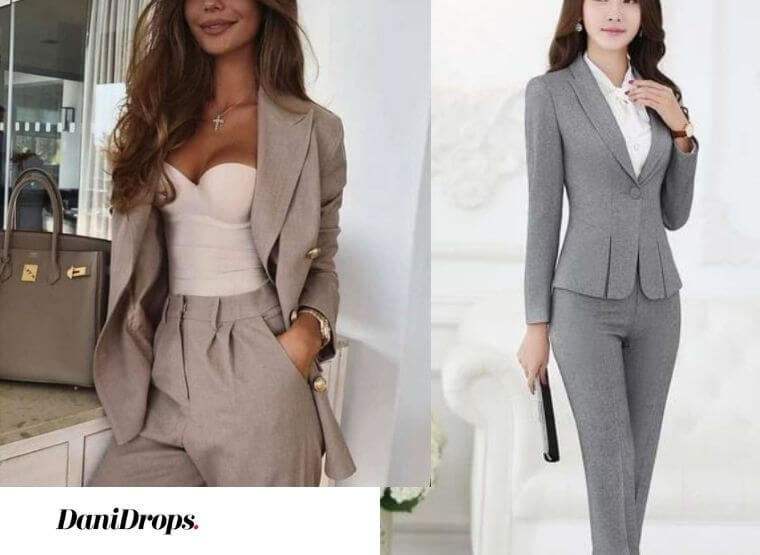 Executive looks with skirt
From this topic on, it is worth reading the topics more carefully. Here, we're going to start talking about work clothes for women that are more alternative. For example, can you put together an executive look with a skirt?
After all, with jeans and a white blouse, we saw that it works. But with a skirt, is it really possible? In fact, you'll need to understand a little bit of fashion and your own body to do this. Only it is possible, yes. It is necessary to consider the measurements of the piece, the fabric and the color.
Executive looks with pantaloons
Do you know what pantaloon pants are? She is not from the denim fabric. In fact, it wears a smooth fabric that fits over the body. Therefore, it has become an ally when choosing work clothes for women who are overweight or who want to lengthen their silhouette.
Taller women, with long arms and legs, have also loved forming executive looks with pantaloons. And the piece works so well for high positions, that it can be combined with shoes, the white blouse we've already talked about here, and much more. It's versatile.
Executive looks with pinstripe pants
We created this topic so you don't get confused. Pin-striped pants are different from pantaloons, okay? So, what we have here is a fabric with very thin stripes, which comes from Italian tailoring. It is a pattern that demonstrates delicacy, elegance and is within social clothes.
In other words, it has everything to do with executive women looking for looks for work . The most common is that they are used in events that require formal attire or meetings in open spaces. It can also be combined with basic pieces such as white blouses.
Executive looks with high heels
High heels won the heart and taste of many empowered women in Brazil. Who doesn't remember several celebrities who put together social looks with these shoes? The combination may look stripped at first, but it has everything to do with the social look.
Also Read: Women's Heel Trend: See 40 models of women's heels for inspiration
In fact, an engineer became successful abroad by combining executive looks with high heels for empowered women. And guess what, Mark Bryan, who lives in Germany, advocates genderless fashion through the skirt and high heels. Do you believe it?
Executive looks in pastel shades
Just so you don't have any doubts about what we're talking about, know that pastels are those that are linked to light colors. For the more technical ones, we are talking about high value and low saturation. In practice, we have soft colors.
Well, here it won't take much to explain why you can bet on pastel shades in your modern looks, right? In addition to black and white, which are basic, betting on these colors can help you find the perfect combination for your work clothes.
Evangelical executive looks
In the first topic of the text, we talked about the suit as the main piece to compose a modern executive look for women nowadays. But since then we've been talking about alternative pieces that are on the rise and are trends these days.
Also Read: Evangelical Skirt Trend. See 48 models of Evangelical Fashion Skirts
In this topic, we have something that has never been so talked about in the fashion market before: the evangelical fashion world. This means that you can put together looks with dresses, which is the main piece used by women looking for evangelical executive looks.
Plus size executive looks
Following the same line of evangelical fashion, we have the option of plus size executive looks, which are for women who are overweight, but want to dress well and comfortably. In fact, they can put together amazing modern executive looks.
So much so that we've already talked about pantaloon pants, which are a great item to compose the whole look. The same goes for the use of blazers and white shirts, when combined. So, know that it is a trend that enables all women to occupy and dress for higher positions.
Executive looks for black women
To close the list of working women's clothing modeling tips, we have to talk about black women. And as we've been talking about since the beginning, the first thing is to respect yourself. A black woman can wear practically all the pieces we've mentioned here.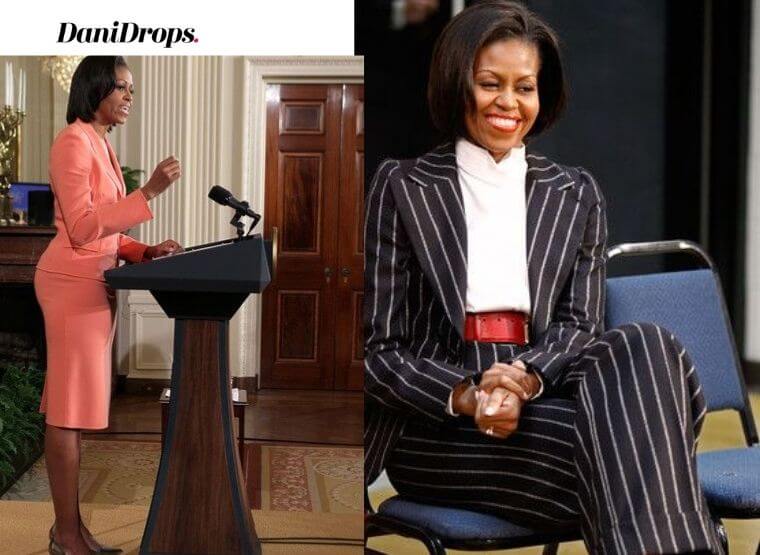 What she needs is to understand her body and her favorite colors to create executive looks for black women. For those looking for this combination of pieces for work clothes, a great inspiration can come from Michelle Obama , who was the most admired woman in the world in 2019.
Accessories that make up an executive look
The last topic of the text is a curiosity. You've seen so far that you can form several female executive looks for work respecting each woman. In all situations it is possible to create an image of authenticity, reliability and respect.
Also Read: Accessories Trend: What Accessories are Hot, Tips and 40 Inspirations
Finally, in addition to the pieces, between suits and pants, did you know that you can also use accessories in the composition of the executive look? Among them, the gold or silver necklaces or earrings. Besides, every woman needs to walk next to a bag, don't you think? Think of it as an accessory too.
NOTE – If you found any photos that do not have their due credits, contact us so we can add the necessary credits.