Believe me: with each new year that starts, the tennis trend is something that surprises. And we're going to prove that today with this article on the women's tennis trend for 2022 . Is it possible that you see themes you've never seen before, like Dad Sneakers sneakers, do you know?
In addition, you can also consider the colors of the sneakers, their assembly with different looks and the sneakers' own formats . For those who enjoy being in fashion and daring, this article will certainly be the first step. Keep reading…
See trendy women's sneakers
Platform Tennis
For many people, this is already a novelty. What is platform tennis, you know? Let's go to the fashion dictionary to find the answer: it's a shoe that has a high sole. Oh, sure, you've already seen him at the feet of Ariana Grande and Bruna Marquezine, yes.
Therefore, he is one of the darlings of celebrities and a trend in women's fashion. It goes with practically every type of clothing and has very chic versions, from famous brands.
Espadrille Tennis
Another novelty among women's tennis trends is espadrille tennis, do you know? Just think of this image: it's a sneaker that has a midsole finish, where the material used is the string. You know what we're talking about, right. He is very famous as a shoe trend.
If you want to look for inspiration, know that many celebrities have used it. Even the shoe with a straw sole, which is a type of espadrille, is one of Princess Kate's favorites.
Knee-high shoes
This topic is easier to explain because high-top sneakers have a name that says a lot about it. In other words, it is taller, going all the way to the shin and not just getting to the ankle. The trend in high-top sneakers goes through famous brands such as Converse.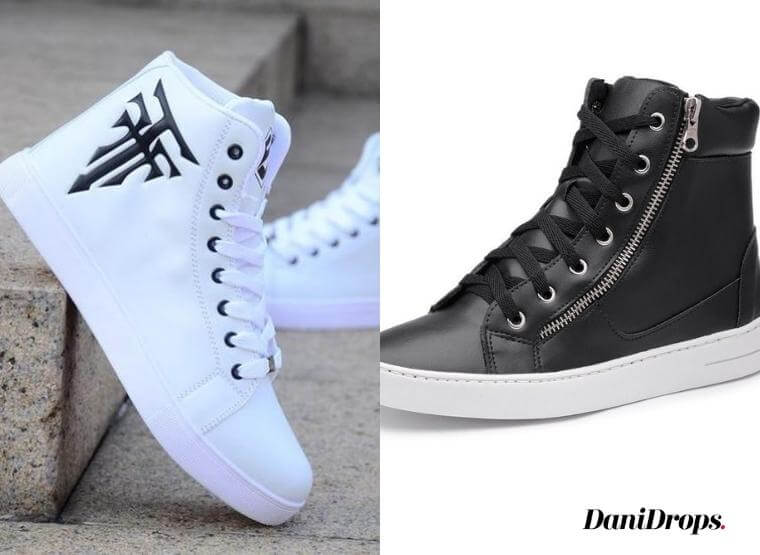 Low Top Tennis
And to compare what we just talked about, comes low-top sneakers. It's really cool for you to get sneakers from the same brand and compare the high-top and low-top versions. You will see that there is a lot of difference. Well, the low-top sneaker is much more traditional than the other one, ok?
sports shoes
Here, too, we won't need much space to explain sports shoes. After all, as the name implies, it serves to practice physical activities. What's nice to know is that there are even more suitable ones for certain sports, like street racing.
Ah, there is a curious fact here. Many women are looking for something like "the best women's gym sneaker brand". Keep in mind that big brands have their own versions, like Nike, Adidas, Rebook, Olympikus, Asics, etc. We'll talk more about this later.
Tennis Dad Sneakers
Here we come to an expression that we used in the introduction and it may have made you curious. So what is the Dad Sneakers sneaker? It's a democratic shoe. Like this? It's great for basic clothes and looks because it has neutral tones and goes with everything.
Also read: Sneakers trend. See the Sneakers models that are on the rise
Still don't understand, right? We have both casual and sport tennis at the same time. The translation is "father's tennis", precisely because it can be used for all daily activities.
Also read: Sneakers trend. See the Sneakers models that are on the rise
Chunky Tennis
Another trend in the world of sneakers is chunky sneakers, which are an icon of the 90s and have made a comeback for 2022. Ah, there's an interesting curiosity here. Above we talk about Dad Sneakers, right. Chunky is also called "Dad Shoes".
That's because it's a sports shoe that has a more robust look. In other words, it is not really a light shoe and great for running. However, it's ultra comfortable and perfect for hippie looks.
Casual shoes
Casual tennis is easy to explain too. It's not a sports shoe. Nor is it a social shoe, like shoes. In other words, it is right in the middle. It is a very suitable shoe for everyday life, for work, for school and for moments with the family.
Slip On Tennis
The expression "slip on shoes" may be new to you, it's true. However, even so, chances are you've seen these shoes somewhere. It's even possible that you have it in your wardrobe, huh.
That's because the slip on is a shoe that doesn't use laces. Another feature is the fact that it is very low. It is also usually an easy shoe to wear. In other words, it is a practical and great sneaker for the daily running of many women.
Knit Tennis
Again: the expression is not so common, but everyone knows knit sneakers. Even because it is one of the biggest trends in the fashion world. It has an elastic structure that makes it a "sock" type. So he hugs the foot very comfortably. It's a great joker to be in your closet and compose relaxed looks.
Basketball sneakers
We've already talked about sports shoes here. We even mention running shoes. Now, another sports shoe that deserves attention is basketball shoes, which are quite different from others. It is common for it to be shaped similar to platform sneakers, only softer.
Sneakers with Air Bubble Shocks
Sneakers with air bubble shock absorbers or simply air bubble sneakers is one that seeks above all comfort when coming into contact with the ground. There are several models available on the market, especially the ones that are manufactured by Nike.
Sustainable Tennis
Did you know that nowadays we have enough technology to create shoes that are totally sustainable? These sustainable shoes are great options for those who want to be in fashion and still collaborate with the environment. Is that your style?
Running shoes
Running shoes for women has been an essential training tool for those who enjoy this sport. Do you know why? Because manufacturers are thinking more and more about the well-being of athletes, who can be amateurs or professionals.
Stylized sneakers
Jeez, we got to a really cool topic. It's a great tip for authentic women , who like to innovate and dare. Stylized sneakers are those that are "customized" or recreated by women who want to have a unique and exclusive product.
Nike shoes
Nike shoes are one of the best known to sportsmen. But Nike has also invested a lot in women's casual sneakers, as well as fashion ones. A good example for us to see this is the Nike platform shoe, worn by celebrities.
Adidas Tennis
Adidas is among the biggest sports brands in the world. That's why Adidas sneakers are a reference. Now there is an interesting point. There is a model of the Adidas sneaker that is very successful and it is not a running shoe, but a casual sneaker, the Superstar.
Converse Tennis
Ah, when we talked about stylish sneakers you immediately thought of Converse, didn't you? This is a very traditional manufacturer and they launched All Star, remember? So, nowadays, Converse sneakers are recognized for being the one made of canvas and with a cool design.
Vans Tennis
Vans is a brand of clothing and sneakers by the brand. In other words, everything that refers to this company has its value. That's why Vans sneakers are one of the most highly regarded and sought after shoes in recent times. The trend is the more traditional sneaker, which has become a vintage sneaker.
Puma Tennis
Puma is a tennis brand that has regained the spotlight of the famous. And you've certainly seen a Puma sneaker that caught your eye. If you think not, look for models: Carina, Tractor and Prowl. They are amazing.
Colored sneakers
Well, here we can consider several points. The first is that you can create colorful sneakers yourself using the dyeing technique called tie dye. Then you get a sneaker with white fabric, like Converse, and customize it.
Also Read: White Tennis Trend. See 21 Looks with sneakers for autumn
The second idea is to buy sneakers that are already colored. That's why there's the Asics Noosa Tri, the Sporty Active by Schutz and the Flatform Recortes by Amaro, among other colorful outfits.
vintage sneakers
When we talk about Vans sneakers, we also talk about being a vintage sneaker. As is the case with All Star, which belongs to Converse. But what really is vintage sneakers? The best answer is the one that says: it's a shoe that goes beyond generations and takes us back to bygone times.
What is the trend for women's tennis for 2022?
The trend for women's tennis for 2022 is:
Platform Tennis
Espadrille Tennis
Knee-high shoes
Low Top Tennis
sports shoes
Tennis Dad Sneakers
Chunky Tennis
Casual shoes
Slip On Tennis
Knit Tennis
Basketball sneakers
Sneakers with Air Bubble Shocks
Sustainable Tennis
Running shoes
Stylized sneakers
Nike shoes
Adidas Tennis
Converse Tennis
Vans Tennis
Puma Tennis
Colored sneakers
vintage sneakers
What is the best women's tennis today
Coming to the end of the text, what we want is for you to get to know the various trends in women's tennis for the next few years. After all, of course, among the options there is one that is great for you and matches your style.
Even if you think it's too traditional to be daring, you can already see that there are women's sneakers that never go out of style, right, like those that are vintage sneakers.