Do you like tattoos? Do you know what the new female tattoo trend 2022 is? Follow this article and be surprised by the news related to female tattoos!
Tattoo! What was a "taboo" for many people for some time now has become synonymous with fashion and style. There is an increasing number of people who have some type of tattoo, especially with regard to the female audience.
There are so many different shapes, colors, lines and types of tattoos that it's even difficult to decide, isn't it!? So, in order to help you make the best choice, here are some types of female tattoos that are trending for the next year and ideal for you. Follow up!
What are the female tattoos that are trending and 2022?
The female tattoos that are trending and 2022 are:
watercolor tattoo
Tattoo with geometric designs
minimalist tattoo
animal tattoo
Tattoo BFFs
tattoo for children
Tattoo with phrases
flower tattoo
Tattoo for those who like to travel
Tattoo that closes the arm
mandala tattoo
religious tattoo
Delicate Tattoo
Fine line tattoo
dotted tattoo
Shoulder Tattoo
Neck tatoo
Ear Tattoo
Eyebrow Tattoo
Tattoo on the arm
See inspiration for your next tattoo
watercolor tattoo
With differentiated and eccentric characteristics, the watercolor tattoo is remarkable for the use of bright colors in well-crafted drawings. It is a filling technique, which uses colors to build an image.
The watercolor tattoo is still quite new, but it has already conquered the hearts of many tattoo lovers and, without a doubt, it is part of the top 10 when it comes to female tattooing.
Tattoo with geometric designs
Firm and symmetrical strokes, but delicate, this is undoubtedly one of the best ways to describe tattoos with geometric designs .
This type of female tattoo is remarkable for the perfect balance between the combination of different shapes in a single design. It may sound simple, but it requires technique and precision from the person who is tattooing.
Without a doubt, it is the perfect choice for those who like the most striking designs!
minimalist tattoo
Small, delicate and charming! Three ideas characteristics to classify the minimalist tattoo . This style has become a trend in female tattoos, essentially because of its simple features.
Also ideal for anyone looking for simplistic design ideas for their first tattoo.
animal tattoo
Do you have a pet and would love to have their art stamped on your body? If your answer is yes, then the animal tattoo is your ideal style.
Popular among the female audience, this type of tattoo brings grace and all the affection that pet parents have for their pets.
But those who think that this type of tattoo is just a form of homage are mistaken. This style is also famous for expressing in a simple drawing the personality, presence and attitude of an animal. Furthermore, many drawings of wild animals such as the lion and wolf, for example, carry a greater meaning than a simple tribute.
And for this reason, this is one of the most popular types of tattoo trend by the female audience. That's because, for many tattoo lovers, this style expresses man's connection with nature and animals.
Tattoo BFFs
If you have a best friend, you undoubtedly enjoy sharing some important moments in your life with that person. From moments of the day, important dates, to small tributes, such as the BFFs tattoo , for example.
BFF (Best Friends Forever), is a very popular English term (especially among young people), used to define dear friends that you want to be together forever. As intense as the meaning of this term is the homage that this tattoo style pays to a loved one.
They are usually small and delicate. In this case, the chosen design is made in the same way and in the same place on the body of all the people involved. Beautiful, isn't it!?
tattoo for children
Another one for the list of tattoos that honor special people! The tattoo for children is considered by many one way cuter than perpetuate the affection of parents with their children.
Whether through symbolic designs, dates, names or even special phrases, this type of tattoo is extremely popular, especially among moms!
Tattoo with phrases
Have you ever been impacted or even felt represented by a phrase or quote? Yeah, you're not the only one. The tattoos phrases are increasingly popular. Be it a phrase from someone very important, a motivational phrase or even a special memory.
This tattoo style is usually done with fine, delicate strokes. It is noteworthy that the tattoo artist's writing counts a lot for a good result. Therefore, research well before perpetuating a phrase in your body.
flower tattoo
Roses, violets, sunflowers or even orchids, there are several possibilities to perpetuate a flower tattoo on your body.
This type of tattoo requires more attention with regard to the details of the flower chosen for the composition of the design. Also, the colors selected for painting and filling are essential for making a flower tattoo!
Tattoo for those who like to travel
Traveling around the world, discovering new places and cultures, trying new foods, breathing new air, it seems like a dream, doesn't it!? But believe me, this is the reality of some people, passionate about travel.
For travelers to eternalize the place visited or even a symbol that represents their passion, it is synonymous with personal achievement.
The tattoo for those who like to travel is usually small and delicate, with fine features; but it is also possible to find large and eye-catching designs with this theme.
Tattoo that closes the arm
Several tattoos together in the same space, composing a real work of art on the human body! This is the desire of many tattoo fanatics and usually the arm becomes the perfect canvas to fulfill this desire. The desire for a tattoo that closes the arm exists essentially because this region of the body is very visible, allowing a perfect view of the work of art.
Some important points for making this type of tattoo is the existence of harmony between the designs and the correct choice of location and size for each tattoo.
Flowers, animals, arrangements, phrases and symbols are used in a joint and planned way in the manufacture. But sometimes a single tattoo, however in great length and proportion, is used in this artistic project.
Among the female audience, the combination of animals and flowers is undoubtedly the most popular choice!
mandala tattoo
If you are looking for a tattoo style with a variety of meanings and details, the mandala style is right for you! The mandala tattoo is usually done in a circular shape, with geometric lines that often resemble the shape of a flower. This style is ideal for people who like to be bold when getting a tattoo!
religious tattoo
Representativeness and respect, two powerful words that define religious tattooing well . Whether through drawings of crosses, rosaries, sacred images or even important phrases; this type of tattoo carries great meaning and is usually done by people who highly value their religion.
Delicate Tattoo
Big or small, symmetrical or asymmetrical! The delicate tattoo is remarkable for the delicate use of details, whether through drawings or phrases. It can be individual or part of the composition of a project in a specific part of the body. This type of tattoo is one of the perfect choices for people looking for first tattoo ideas.
Fine line tattoo
The famous "fine line", sought mainly by the female audience for the making of delicate, graceful and small tattoos. This style of tattoo is generally used in creating tattoos with phrases, due to its lightness and simplicity of line.
dotted tattoo
Another unusual and impressive style for our tattoo list! The dotted tattoo makes use of small overlapping dots that make up the chosen design. In addition, this tattoo style makes strong use of shadows to further enhance the created figure.
Shoulder Tattoo
Delicate and small or big and flashy! The shoulder tattoo is ideal for those who enjoy highly visible tattoos, essentially because it is an area of the body that is often exposed. It is worth noting that the shoulder is one of the most popular parts for tattooing, as in addition to being ideal for individual designs, it makes up arm and forearm projects.
Neck tatoo
Considered by many to be a painful and sensitive region for tattooing, the neck has become a space in the body, much sought after for making tattoos!
A neck tattoo is generally seen as a symbol of courage, as well as being a prominent place, it is a body of space still considered unusual to tattooing.
Ear Tattoo
Delicacy is the perfect definition for an ear tattoo ! This is also on the list of tattoos considered painful by the sensitivity of the place being tattooed, but it is more common than the neck tattoo. In addition, this type of tattoo usually uses a lot of the "fine line" technique mentioned above.
Eyebrow Tattoo
Better known as micropigmentation, and eyebrow tattooing is a technique used to fill gaps and add volume to the hairs in this region. In this case, it is not permanent and needs retouching from time to time, but it is an excellent option for women who are unhappy with their eyebrows.
Tattoo on the arm
The arm tattoo is one of the most sought after options by tattoo lovers, essentially for making larger designs, with greater realism and details. The choice for tattooing animals in this region is quite frequent, whether in large or small proportions.
For those who like tattoos, the human body becomes a blank sheet! If you are part of this group, check out the most popular areas of the body for tattooing below!
Forearm Tattoo
Popular with both men and women, the forearm region is the perfect space for making tattoos in large proportions! This region is considered by the vast majority of tattooed people as one of the least painful parts of the body to get tattooed. In addition, it is a very visible and eye-catching region, ideal for those who are not afraid to dare to get a tattoo.
Wrist Tattoo
For this region, small, delicate and fine-line tattoos are the most sought after for female tattoos. The wrist tattoo divides opinions, essentially because this is a sensitive region for most people. But, on the other hand, tattoos in this region ooze grace.
tattoo on hand
A tattoo on the hand is still considered by many unusual. That's because, not all people consider this place a good option for tattooing. Essentially because it is a region of the human body with many bones and joints, which can increase the level of pain when tattooing.
Finger tattoo
Similar to the previous topic, the finger tattoo falls into the list of less-requested places for tattooing. In addition to the reasons already mentioned above, this type of tattoo is more easily undone, a factor that greatly interferes in the choice of who will get the tattoo.
Back Tattoo
A tattoo on the back is a clear example of striking and attractive tattoos. As this is a place visible to everyone, it is necessary to calmly plan your design project. Among women, it is common to choose tattoos with phrases, flowers or even diagonal drawings, crossing this region.
Tattoo on the rib
From the list of painful places, the rib tattoo is undoubtedly one of the most difficult regions to tattoo. That's because, this is a place in the human body, full of bones and joints, so analyze it well before getting a tattoo.
It is common among women to choose stylized phrases for tattooing in this region.  
breast tattoo
Extremely popular among the female audience, the breast tattoo is discreet, while adding sensuality to the region. It is noteworthy that this is also a complicated region to tattoo, as it is very sensitive!
Tattoo below the breasts
The tattoo below the breasts is undoubtedly one of the most current trends in female tattoos. Delicate and sensual, this is an excellent option to differentiate yourself when getting a tattoo.
A tattoo on the chest
The chest tattoo is more common among the male audience, mainly because it is a less sensitive area and has a lot of space for making large drawings.
Belly tattoo
The belly tattoo is one of the most requested by women. Big or small, flashy or more delicate, this type of tattoo oozes style and boldness.
Navel Tattoo
The navel tattoo is one of the least sought after options by tattooed people. Mainly because this is a delicate and hidden region most of the time. It is common to opt for small and delicate designs for making this tattoo, such as hearts and stars, for example.
Tattoo on the Butt
Whether individual or complementing another project, the tattoo on the butt is an example of boldness, sensuality and delicacy. This type of tattoo is very common among the female audience, and it can be in large or small proportions.
Groin Tattoo
Boldness is the ideal word to define the groin tattoo! Delicate, small or large, tattoos made on this part of the body are sexy and attractive, in addition to being much in demand by the female audience. 
As this is a sensitive region of the body, it is necessary to analyze it calmly before performing it.
Tattoo on Cox
The Cox tattoo is the perfect option if you are looking for discretion and sensuality. Extremely popular among the female audience, this type of tattoo usually uses darker lines with variation in their proportions. It is the ideal option to compose a whole body project.  
Hip Tattoo
For many women the hip tattoo has meaning that can be associated with reproduction, but for others it is just another form of expression. Regardless of meaning, tattoos in this region are beautiful and graceful.
leg tattoo
Eye-catching tattoos! Undoubtedly, the tattoo on the leg reflects this statement well. This region is perfect for the composition of large projects, rich in details, shapes and major features. Of course, the choice for this location and which project to carry out should be done with calm and caution, as this is an exposed region most of the time.
Tattoo on thigh
Strength, space and power, those are the right words to define a thigh tattoo. Generally, this region is very popular for the creation of larger projects with a wealth of details, mainly because it is a region considered by many to be insensitive.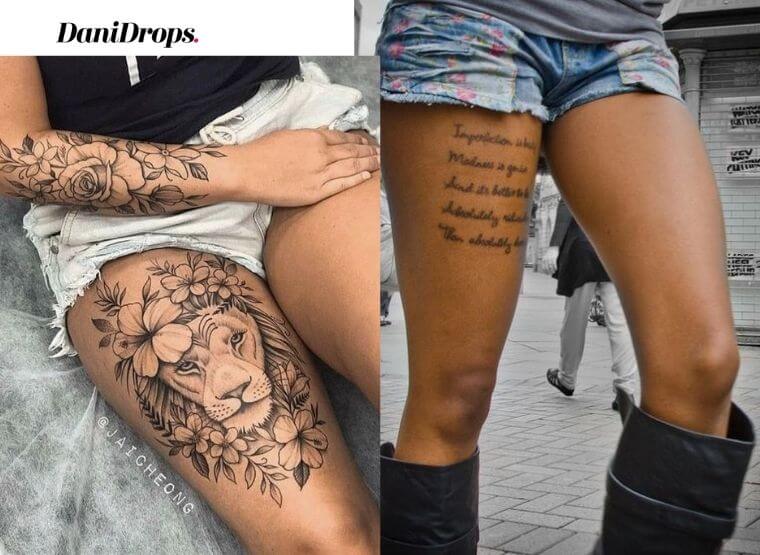 Knee Tattoo
As mentioned before, for tattoo lovers the body is a blank sheet and every part can be used. 
Of course, the knee is on that list. A little unusual, the tattoo on the knee is usually used to cover scars or spots in the region, but there are those who like this region. 
For all scenarios, care is needed, as this is a very sensitive region of the body.
Tattoo on Leg Potato
The calf tattoo is classic, especially among athletes. This type of tattoo is extremely flashy and stylish and is usually done on a large scale for those who like bigger tattoos.
Foot Tattoo
Extremely delicate, the foot tattoo is one of the most requested options by the female audience. 
Because it is a region full of bones and joints, the foot becomes an extremely sensitive place for some people, but nothing that interferes with the realization of the tattoo. Choosing small, detail-rich tattoos is undoubtedly the right choice for foot tattoos.
NOTE – If you found any photos that do not have their due credits, contact us so we can add the necessary credits.