Christmas is approaching is one of the dates most awaited by people. At Christmas, parties take place with the family, at the company, or anywhere that is special. To participate, women want to be well dressed in the parties, after all, Christmas is that very special party that deserves a new look. See here the look trends for Christmas 2021 .
How to dress for Christmas, and what kind of clothes should I wear?
Christmas is a very important date, people get together as a family, with friends, exchange gifts and most of them kill those who haven't seen them for a long time. For this special date, you need to be well dressed, right? However, many women are undecided on how to dress for Christmas.
To look good at Christmas and feel good, you need to wear appropriate clothing that looks good and makes you feel good. The perfect outfit for Christmas is a dress, it can be red, or whatever color you prefer. That's if the party is in a fancier place, a high heel or clog.
If the party is with the family in a more relaxed atmosphere, there's nothing to stop you from wearing looser pants, cropped ones, shorts with a high waist, a blouse with frills on the sleeves and a flat top.
You can choose the ideal look, always looking for well-being, don't forget that. See below for some more clothing options for Christmas.
See looks for Christmas that are in fashion Fashion
Which dress models should I wear for Christmas?
If you're one of those women who loves to wear dresses at parties, check out the tips we've selected for you to wear at Christmas and rock, whether with your family or friends.
Dress for Christmas with the family
Being with the family at Christmas is a great privilege, isn't it?! So why not improve your look? The dress is an excellent option, as it is in the family, it doesn't have to be something so formal, right? A long dress, with opening on the sides, can be printed or plain, if you prefer a shorter dress, you can wear a fitted dress at the knee, the colors that are in trend, such as moss green or military, are perfect.
If it's cooler, you can invest in a dress with a half-sleeve, it's very stylish and goes well for parties when the weather allows it.
cocktail dresses
The Cocktail dress is an elegant piece made of silk, muslin or crepe fabric. The hem of the Cocktail dress is usually knee-length. It has a well defined waist, making the silhouette of women more evident.
Also read: Short Dresses Trend 2022: What are the Short Dresses Trends, Tips and 20 Inspirations
red dresses
The red dresses are the darlings at Christmas, a dress with flared skirt and waist marked give a romanticism air to look. The tube dress, on the other hand, provides a more sensual look and can be used on other occasions. Colors like red and green refer to Christmas, bet on these colors to compose the Christmas look.
Also read: Dress Trend 2022 – See 40 Photos of Dress models and what is the Fashion Trend
Dress for Christmas with friends
Friends are always a great option to spend Christmas, especially when you are away from your family. As it's an important party and you want to make a good impression, you can bet on a more relaxed dress with prints, ruffles and lots of charm.
A very nice dress tip is the long one, but not that sophisticated long one, that light one, with openings on the sides, it can be sleeveless or with short sleeves. You choose according to your preference. 
If the party is at home, the dress model can be informal, but if it's at a club, it's necessary to dress up more and wear a more chic dress, silk, for example. A dress with lace and a high heel to match.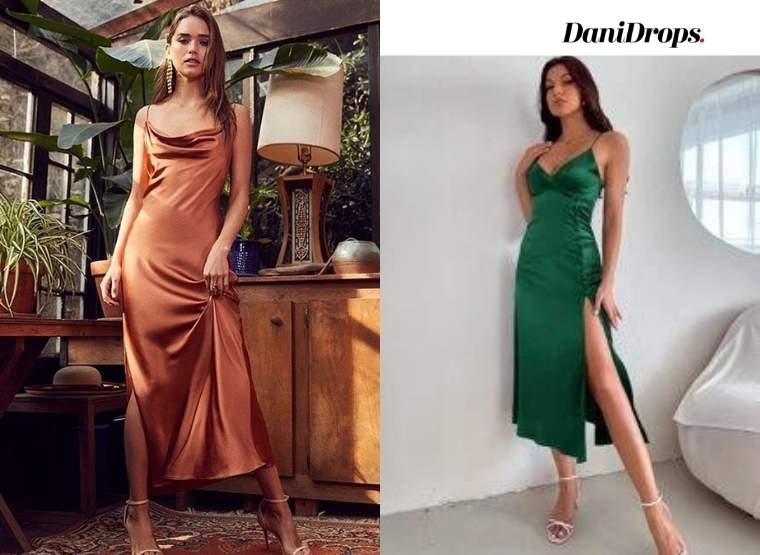 Plus Size Christmas Dresses
Plus Size women have already taken over the catwalks and even in the windows of the hottest stores. Chubby girls also find dresses that follow fashion trends. If you prefer prints, you should opt for small prints on a black background, preferably, this print leaves the woman elegant.
When the dress has a cut below the breasts, it disguises the belly, the ideal neckline is in "V", which makes the neck long.  
The lace or silk crepe dress is ideal for formal Christmas parties, always opting for an ideal length according to your height. Short women can wear knee length, taller ones can opt for a mid-calf dress, or even a long one.
Waisted Christmas Dresses
The defined waist is a trend that is making a comeback, after the low-slung pants that made women lose their waistline, fashion is returning to femininity through the defined waist. The waistline dresses are the feeling of Christmas.
A waisted dress with a V-neck lengthens the silhouette, the canoe neckline gives more sensuality with the shoulders out. As the focus is on the waist, the skirt of the dress can be slightly flared, or gypsy-style ruffles, to give the impression of a very slim waist.
Christmas tube dress
The tube is a dress model that every woman has in her closet, it is a wild piece and it looks good on any occasion. The tube dress for Christmas can be a great bet, as it suits all types of occasions. The tube dress can be above the knee, below the knee, with lace, printed, in a single color, preferably red to match Christmas.
chic dress for christmas
When the Christmas party requires a more upscale outfit, it's time to invest in sophistication and wear a dress suitable for the occasion.
A silk crepe dress is perfect, in addition to being lightweight, it suits the occasion. The long lace dress with side opening is elegant and charming. For the most stylish women, the ideal chic dress is the one with the mermaid model. Any of these dresses is perfect for a more upscale occasion.
Red set
The red set is perfect for parties, it can be a set of skirt and blouse, or pants and blazer, or shorts and cropped. When choosing the look, the type of party, time and style must be taken into account.
Cropped top and red short
This look for Christmas 2021 is perfect for celebrating at the beach or in the pool. The Cropped top and red shorts are a beautiful combination, even more so for Christmas. The model you can choose, whether longer or shorter shorts, whether tight or loose, the choice is yours.
Overalls
The jumpsuit is the great look trend for Christmas 2021, there are so many models, one more beautiful than the other. There are jumpsuits for all styles and tastes, long jumpsuit with half sleeves, short jumpsuit, capri jumpsuit, with different prints and colors.
Pleated skirt
The pleated skirt is also among the look trends for Christmas 2021 . They provide elegance and sophistication, in addition to providing a more romantic and sophisticated air.
Also read:  Skirt Trend 2022. See 40 styles of skirts that are in fashion
sequined coat look
The shine evokes glamor and elegance, if used correctly. The sequin jacket is perfect for wearing with a strappy dress. However, it is important to be careful with the composition so as not to exaggerate the shine, that is, if the dress is already shiny you should not wear the sequined coat. It is perfect if paired with a dull dress.
totally white look
There are those who say that white only looks good on New Year's Eve, but that's just a big mistake, as the white look suits any occasion. You can add a beautiful golden necklace or earrings to the look and add a special touch to the look.
Monochrome sets
There are those who like monochromatic looks , and it seems that they are also a trend of looks for Christmas 2021 . It can be a nice dress, a jumpsuit, a skirt and cropped set, among others. The colors you choose according to your style.
looks with skirt and tights
Pantyhose is a great ally for women, they are increasingly providing comfort and well-being. Technology is also present in pantyhose, as they are so thin that you can wear them without others noticing that you are wearing them. The look with a skirt, tights and a stiletto shoe is the perfect look to spend Christmas 2021.
With so many options, you can now choose the one that best suits your style and spend Christmas 2021 looking beautiful and very well dressed.
Skirts to wear for Christmas
Skirts are hot for Christmas, and for those who love it, the models are quite varied to suit all styles. Check out:
Pleated skirt, a timeless, elegant model that looks great for Christmas; the long ruffled gypsy-style skirt goes with a tighter blouse or cropped skirt; The fitted skirt is another really cool option to wear at Christmas, it goes with a looser blouse and high heels.
Simple clothes for Christmas
There are those who like simplicity, even at parties like Christmas. Wearing simple clothes is a style that does a lot of good for many people. If you can relate to them, check out some simple clothes to wear this Christmas.
Hawaiian shorts and sandals, with a t-shirt, discreet earrings is a simple look; a short denim skirt, a tank top and a flat top, with matching earrings and a flat sandal; a knitted dress, can be printed or single-colored with a flatbed, fits very well for those who like simple clothes for Christmas.
Clothes for Christmas Plus Size
Plus Size clothes are already part of the lives of fatter women and the best part is that they also follow fashion trends. Knitted skirt and blouse sets, loose dresses or dresses with cut below the breasts, pantacur pants with cropped, denim skirt and tank top. There are many options for plus Size women to wear at Christmas, just choose the look that matches your style and type of party.
What are the Look Trends for Christmas 2021?
Find out what to wear for Christmas and the Look Trends for Christmas 2021 with this super list:
Red set
Cropped top and red short
Overalls
Pleated skirt
cocktail dresses
red dresses
sequined coat look
totally white look
Monochrome sets
looks with skirt and tights
cocktail dresses
red dresses
Dress for Christmas with friends
Plus Size Christmas Dresses
Waisted Christmas Dresses
Christmas tube dress
chic dress for christmas
Red set
Cropped top and red short
Overalls
Pleated skirt
sequined coat look
totally white look
Monochrome sets
looks with skirt and tights
Skirts to wear for Christmas
Simple clothes for Christmas
Clothes for Christmas Plus Size