The 2022 sandals trend is already in store windows, with a beautiful color palette that will please all women. Sandals make up beautiful looks, from the most sophisticated to the most relaxed.
There are sandals for all styles, you are sure to find one that suits your taste. Check out some sandal options that will be trending in 2022 below.
See the models of sandals that are in fashion
Crocs Sandals
Crocs sandals are very soft and comfortable, one of the most used shoes during the pandemic. Balenciaga launched another trend for 2022, a Croc sandal that goes against the grain, as it has a thin heel and comes in two colors, leaf green and black.
Anabela sandal
The Anabela sandal is perfect, it can be tall, it doesn't tire your feet, it was designed to give comfort and leave the woman elegant, at the same time. It comes in several colors and models for all kinds of tastes and styles.
Vizzano Sandal
The Vizzano sandal is perfect, the brand is known for the comfort and design with which the shoes are designed, always aiming at the comfort of women's feet. For 2022 the models are amazing, high heels, low colors and several models, always following fashion trends.
Dakota sandals
The Dakota sandal comes loaded with news, stronger and more vibrant colors, with models in block heels, wedge heels and incredible flats.
Ramarim Sandal
The Ramarim sandal is well known by women and is used a lot because of the comfort and the design that is amazing. For summer 2022, the brand brings to this season the medium heel in various formats, but what calls the most attention is the block heel.
Bottero sandal
Bottero sandals use leather as a reference. The sandals are very stylish made in leather, with Anabela, ballerina and block heels, in addition to flat flats, of course. Sandals for all tastes.
Arezzo sandals
Arezzo took great care in the new collection and brings Arezzo sandals with various types and formats of heels, such as the ballerina heel, which is the big news in fashion. The sandals come with a metallic design, for those who enjoy pastel and vibrant colors.
sandal via mars
The Via Marte sandal cannot be missing from your look, it offers countless possibilities. The Anabela heel is what appears the most, it also has other options to vary the look. Vinyl is another material that appears a lot in the collection.
Capodarte sandal
The cappedarte sandal is made of leather, in soft colors and nude tones. The sandals have ties, braids, buckles, everything to give the pieces that special charm.
Sandal Beira Rio
The Beira Rio sandal doesn't stray from the trends, it brings a beautiful summer 2022 collection, with modern and comfortable heels, in the colors that follow the trends, white, beige, yellow, blue, among many others.
Via Uno Sandal
The summer sandal is one that provides comfort, and the Via Uno sandal is synonymous with comfort for the feet. They come with heels of various sizes and structures for all types of women.
Leather sandal
Leather sandals are a much more durable and comfortable item. Many famous brands present leather in their collections, in addition to vinyl, but leather is what women like the most.
Spadrille Sandal
The Spadrilhe sandal is on the rise and brings as a 2022 trend the rope that appears on the soles in several variations. They can have different ties, colors and designs to win over all women.
Melissa Sandal
Melissa is always innovating is a very attractive shoe brand that makes teenagers' minds tick. The Melissa sandal is a great bet for summer 2022, it comes in cheerful, fun and bright colors. One for each look. The models are very varied, you just need to choose the ones that you like best.
Havaianas Sandals
Hawaiian sandals never go out of fashion, they appear remodeled to follow trends, they are color prints, and a multitude of accessories that can be added to them. It is worth knowing the models of Hawaiian sandals 2022, they are beautiful.
Piccadilly Sandal
The Picadilly 2022 sandal came to blow, it has block heels, which offer comfort and safety when walking, it has Anabela heels, thin heels and beautiful colors to make combinations of all kinds.
Peep Toe Sandal
The Peep Toe 2022 sandal is incredibly beautiful, features laces, lace, varnish, leather and more. There are so many models that it is difficult to choose just one. So, don't be shy, go buy a few three to make combinations to rock and have fun this summer.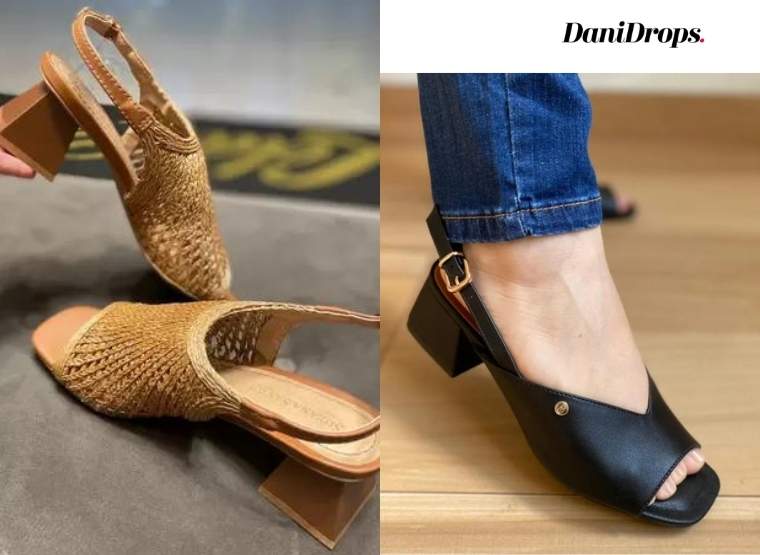 Sandal Low
Low sandals are a very strong choice, most women choose to wear sandals with very low heels. It provides comfort and safety when walking. The models are beautiful, for all occasions. It has gemstones, shine, gold, elegance and a lot of charm.
high sandal
The high sandal is perfect for more formal parties, where you ask for a long one, a pencil skirt or a formal attire. The heels can vary, it can be thin, ballerina, block, among others that will please.
strappy sandal
The straps and ties are always on the rise, let's say they are timeless. The strappy sandal is among the most comfortable. In addition to taking a few parts of the foot, it leaves it freer to cool off in the summer heat.
Half Paw Sandals
The Meia Pata sandal also appears this season with a lot of comfort and beauty. Lovers of this type of footwear, can now celebrate, as they are in the windows for the joy of all.
Tractored sandals
The treated sandal is here to stay. Those who thought it wouldn't work were wrong, because there are thousands of women who love this type of sandal and do not give up the comfort they provide.
Block Jump Sandal
Block jumping is here to stay and is reigning in all seasons. So you couldn't miss the block heel sandal in summer 2022, right?! It is beautiful and brings a touch of the 80s to make the piece even more beautiful.
Transparent Heel Sandals
Look at the transparent heel sandals making the heads of women of all ages. They are amazing and ready for any occasion. You can choose the color you want to create your looks.
white sandal
The white color in shoes comes from past seasons and now appears again in white sandals. A soft and perfect color for summer, in addition to combining with countless looks.
colored sandal
Colors are the expression of summer, the more colorful the better. The colored sandals are like that, they match all looks and can be of various shapes. You can also opt for a more vibrant or neon color.
Birken sandal
Some trends were rescued and among them we highlight the Birken sandal, comfort and practicality is its differential. This is a perfect type of sandal for the more informal everyday. Of course, in a work environment it doesn't look good.
flat sandal
Flat sandals have been conquering women for some years now, and for 2022 it couldn't be missing. There are so many amazing models and colors, it's hard to know which one is the prettiest or the most comfortable. Don't be in a hurry to choose yours.
spiral sandal
You know that sandal full of laces, on the ankle and on the instep? So, this is the spiral sandal, it leaves the foot and leg in a unique charm. Combines with short pants, skirts, dresses and shorts.
Gladiator sandal
The gladiator sandals have already come in several versions, but the ones that most pleased were the ones with Anabela and flat heels. Ties and buckles go almost to knee height. It goes around the leg and makes it very attractive.
decorated sandal
The decorated sandals are beautiful, and include numerous accessories in the decorations, such as gemstones, pearls, lace, embroidery, among others. If you like this type of sandal, then take the opportunity to have fun this summer with decorated sandals.
What are the sandals trends for 2022?
The sandal trends for 2022 are:
Crocs Sandals
Anabela sandal
Vizzano Sandal
Dakota sandals
Ramarim Sandal
Bottero sandal
Arezzo sandals
sandal via mars
Capodarte sandal
Sandal Beira Rio
Via Uno Sandal
Leather sandal
Spadrille Sandal
Melissa Sandal
Havaianas Sandals
Piccadilly Sandal
Peep Toe Sandal
Sandal Low
high sandal
strappy sandal
Half Paw Sandals
Tractored sandals
Block Jump Sandal
Transparent Heel Sandals
white sandal
colored sandal
Birken sandal
flat sandal
spiral sandal
Gladiator sandal
decorated sandal